New proposal to make Polish sex education more extremist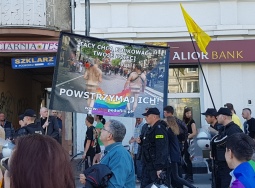 7 August 2023 - Poland's ruling Law and Justice (PiS) party has proposed legislation that will undermine children's rights to education. The draft amendment to the Education Law Act called "Protect Children, Support Parents" would forbid access to schools for sex education NGOs. Such groups are often the only reliable source sex education in the face of the already extremely discriminatory national curriculum.
From secular to extremist Catholic
During the Communist era in Poland, sex education was introduced into the school curriculum in 1969, where it was taught in a secular manner as part of subjects such as biology. In 1981, sex education as a separate subject was discontinued and was instead taught during lessons with the class tutor. This shift was already a sign the topic was becoming considered "sensitive" and not a normal school subject. The fall of Communism saw the collapse of the secular approach. In 1993, the Act on Family Planning, Protection of Human Fetus and Pregnancy Termination came into force and established the introduction of morally absolutist and Catholic-influenced sex education. Article 4 of the Act introduced into school curricula courses on the value of family life, life in the prenatal phase, and promoting procreation while neglecting contraception except abstinence.
Sex education in Poland is mandatory, but parents have the right to withdraw children from these lessons. In 2017, PiS started to make sex education more extremist and discriminatory. The curriculum of "family life" classes became even more riddled with extremist Catholic beliefs. The word family appears 173 times while the word sex is used only twice. Different sexual orientations are not mentioned and contraception is rarely discussed, except to contrast it with natural family planning.
Sex education forbidden until age 15, after that only with consent
Now, PiS wants to go even further. On May 4, 2023, the PiS leader Jarosław Kaczyński said the proposed law is intended to curb the "sexualization of children" and "all sorts of strange ideas." In the past, PiS politicians have defined "sexualization of children" broadly as discussions of sexual health, intimate relationships, sexuality, and LGBT people's lives. PiS claims that talking about LGBT lives will increase children's propensity to engage in sexual activity or identify as LGBT. The new proposed law prohibits NOGs from activities that "sexualize children," targeting all sex education up to age 15. In high schools and vocational schools the proposed law will require approval of the school's principal and of the parents' council. In addition, students participating in group-led educational activities would be required by law to get written consent from their parents.
Enough signatures for decision without public consultation
The new law PiS is proposing is similar to legislation put forward twice by PiS politician and Minister of Education Przemysław Czarnek. President Andrzej Duda vetoed both versions of that bill, the latter following widespread protests from students, teachers, and civil society groups. PiS presented this draft in May as a "citizens' initiative," meaning party members needed to collect 100,000 signatures by July 19 for it to be introduced in parliament. Unlike bills introduced by politicians, citizens' initiatives do not require a public consultation period, which accelerates the legislative procedure. They succeeded in collecting those signatures. It is expected that the debilitating bill will be discussed by the Polish parliament in October.
Sources: Human Rights Watch, on the Polish sex education curriculum: Euractiv 2022, for history: European Student Think Tank, March 2023, citizens in initiative got enough signatures: Prawo, Deeple translation in English of Prawo article